Here we publish an article by AP. Many activists have made complain to various authorities about these findings. We also publish below a request to make complain to UN High commissioner.
Here is the Word version of the complain letter. Draft Request to UNHigh Commissioner
Please send your protest.
Thanks
Tamil Solidarity
LONDON (AP) — One of the men tortured in Sri Lanka said he was held for 21 days in a small dank room where he was raped 12 times, burned with cigarettes, beaten with iron rods and hung upside-down.
Another man described being abducted from home by five men, driven to a prison, and taken to a "torture room" equipped with ropes, iron rods, a bench and buckets of water. There were blood splatters on the wall.
A third man described the prisoners as growing accustomed to the sound of screaming. "It made us really scared the first day but then we got used to it because we heard screaming all the time."
Raped, branded or beaten repeatedly, more than 50 men from the Tamil ethnic minority seeking political asylum in Europe say they were abducted and tortured under Sri Lanka's current government. The previously unpublished accounts conjure images of the country's bloody civil war that ended in 2009 — not the palm-fringed paradise portrayed by the government.
One by one, the men agreed to tell their stories to The Associated Press and to have the extensive scars on their legs, chests and backs photographed. The AP reviewed 32 medical and psychological evaluations and interviewed 20 men. The strangers say they were accused of trying to revive a rebel group on the losing side of the civil war. Although combat ended 8 years ago, the torture and abuse occurred from early 2016 to as recently as July this year.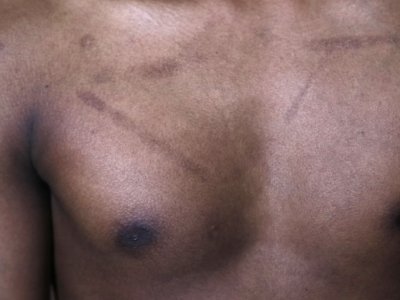 Sri Lankan authorities deny the allegations.
Piers Pigou, a South African human rights investigator who has interviewed torture survivors for the past 40 years in the world's most dire countries, says the sheer scale of brutality is nothing like he has heard before.
"The levels of sexual abuse being perpetuated in Sri Lanka by authorities are the most egregious and perverted that I've ever seen."
Most of the men say they were blindfolded as they were driven to detention sites. They said the majority of their captors identified themselves as members of the Criminal Investigations Department, a police unit that investigates serious crimes. Some, however, said it appeared their captors and interrogators were soldiers based on the types of uniforms and insignia they were wearing.
In an interview last week in Colombo, Sri Lanka Army Commander Lt. Gen. Mahesh Senanayake denied the torture allegations.
"The army was not involved — and as for that matter — I'm sure that police also were not involved," he said. "There's no reason for us to do that now."
The Sri Lankan government minister in charge of the police agreed to an interview with the AP last month but did not follow through.
Despite its denials that widespread torture still persists, Sri Lanka has repeatedly failed to investigate war crimes allegations stemming from its 26-year civil war between the Liberation Tigers of Tamil Eelam, who were fighting for an independent homeland, and the Sinhalese-dominated government. The Tigers, as they were known, were designated as a terrorist organization after a wave of suicide bombings. The government's forces were accused of targeting civilians, which is considered a war crime under international law.
At the end of August, human rights groups in South America filed lawsuits against Gen. Jagath Jayasuriya, Sri Lanka's ambassador to Brazil and other South American nations. He is accused of overseeing military units that attacked hospitals and killed, disappeared and tortured thousands of people at the end of the war.
Upon the ambassador's return to Sri Lanka, President Maithripala Sirisena vowed that neither Jayasuriya nor any other "war hero" would face prosecution — a pledge that rights groups said illustrates the government's refusal to investigate its own soldiers accused of war crimes.
Nevertheless, Sri Lanka's international profile is on the rise.
In May, the European Union restored the special trade status that Sri Lanka lost in 2010 after the country had failed to implement key international conventions. Sri Lanka is also paid to participate in U.N. peacekeeping missions and was recently asked to sit on a U.N. leadership committee trying to combat sexual abuse. An AP investigation earlier this year found that 134 Sri Lankan peacekeepers participated in a child sex ring in Haiti that persisted for three years — and no one was ever prosecuted.
Zeid Ra'ad al-Hussein, one of the U.N.'s top diplomats who has pushed for accountability in Sri Lanka, was aghast at the AP's accounts of the 52 tortured men.
"While the U.N. is unable to confirm this until we mount an investigation, clearly the reports are horrifying and merit a much closer inspection from our part, especially if they occurred in 2016 and 2017," said Zeid, the U.N.'s High Commissioner for Human Rights.
The International Truth and Justice Project has gathered testimony from more than 60 Sri Lankans across Europe — 52 of whom were part of the AP's investigation. The group has been lobbying governments and international organizations to get justice for victims. Staff assigned the men witness numbers to protect their identities and the AP agreed to share their stories on condition of anonymity because the men fear that they or their families in Sri Lanka could face reprisals.
The men said they were accused of working with the Tamil Tigers, but the government insisted in its interview with the AP that the rebel group is no longer a threat. Nearly all of the men were branded with tiger stripes. One man had nearly 10 thick scars across his back.
Most of the men said they were sexually abused or raped, sometimes with sticks wrapped in barbed wire. Though rape carries a significant social stigma, the victims said they felt obligated to tell their stories.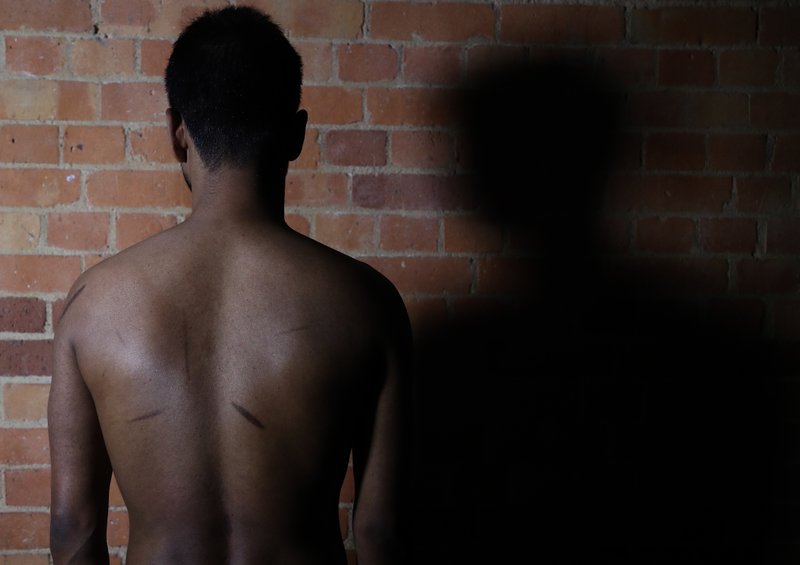 "I want the world to know what is happening in Sri Lanka," a 22-year-old known as Witness #205 told the AP during an interview in July. "The war against Tamils hasn't stopped."
___
A 'WHITE VAN' ABDUCTION
Unlike most of the victims, Witness #249 admits to having been a member of the Tigers nearly a decade ago, joining up when their ranks had been depleted in the final stages of the war. He walks with a limp, caused when a piece of shrapnel left in his leg from a battle in which nine of his friends were blown up.
After the war, he returned to the family farm, helping his father. Last year, he married his high school sweetheart, and began collecting donations for victims of the war.
Soon after his wedding in 2016, he said, he was snatched off the streets, arriving at a torture room hours later.
"They heated up iron rods and burned my back with stripes," he told the AP, closing his eyes and rocking back and forth. "On another occasion, they put chili powder in a bag and put the bag over my head until I passed out. They … raped me."
His father eventually bribed the security officers to free him. He was hospitalized for 10 days after his release. Most of the men said their families paid an average bribe of 500,000 Sri Lankan Rupees (around $3,250) and up to $20,000 to be smuggled into Europe — hefty sums that sometimes forced their families to sell parcels of land.
Many of the other victims said they had never worked for the Tamil Tigers. But all told similar tales: they were abducted at home or off the streets by men in white or green vans, they were tortured for days or weeks or months, a family member often secured their release through a bribe, and they made their way to Europe using smugglers.
"I didn't even get a chance to say goodbye to my wife before I fled for England."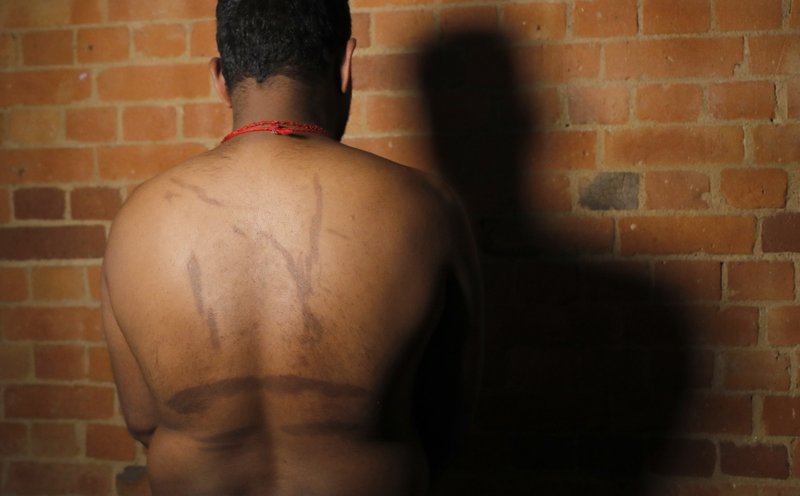 Now, after all he has endured, Witness #249 relates to the tragic characters in the works of his beloved Shakespeare: broken and cursed.
Last year, Sri Lankan authorities were called to Geneva to testify before the U.N. Committee against Torture. When questioned about allegations of continued use of torture against suspects in police custody and impunity for alleged perpetrators, Sri Lanka's Attorney General Jayantha Jayasuriya said the country's constitution prohibited torture and that strengthening human rights was a cornerstone of its current agenda. He also said "strict action" would be taken against perpetrators of human rights violations.
But advocates say that hasn't happened.
"Unless those responsible for these crimes are tackled head on and held accountable, this will not end," said Frances Harrison, project manager for the International Truth and Justice Project.
Many Tamils contend that the government continues to target them as part of a larger plan to destroy their culture. Tamils speak a different language and are largely Hindu, unlike the largely Buddhist Sinhalese majority.
More than 100,000 people were estimated to have died in the war, including at least up to 40,000 civilians in its final months, according to U.N. estimates. Sri Lankan authorities have denied targeting civilians and dispute the toll.
Witness #205, who reported that he was held for 21 days and tortured, said he was accused of belonging to the Tamil Tigers.
He, like the majority of the other victims, said one of his captors identified himself as a member of Sri Lanka's Criminal Investigations Department.
"These survivors are the walking wounded of an invisible war in which rape has become the ultimate covert weapon," said Harrison.
___
SIXTY CIGARETTE BURNS
Many of the victims meet each week at a London church for English classes and counseling sessions.
In July, a new member of the group stepped forward revealing at least 60 cigarette burns on his legs and chest. At 19, he was the youngest victim of the group and trembled when speaking of his sexual abuse.
"What's striking is that I'm seeing men who are younger and younger, meaning that they would have had very little to do with the war," said Dr. Charmian Goldwyn, who has seen nearly 200 Tamils who say they were tortured. Some of the cases occurred before 2015 but she has also seen men who have described more recent abuse.
She assesses their mental and physical health and often testifies in their asylum hearings. Branding and scars often make it easier to prove torture for an asylum claim but it becomes more difficult to prove sexual abuse.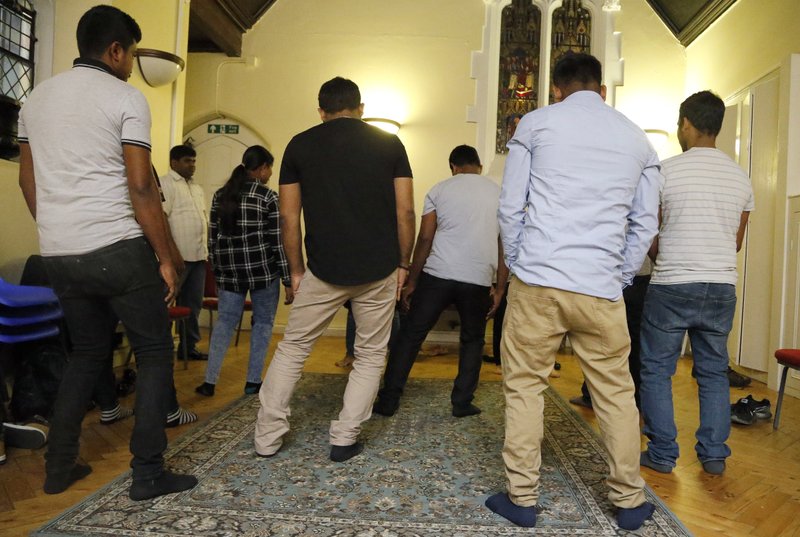 Gary Anandasangaree, a Tamil lawmaker in the Canadian government, said there is a large degree of distrust from asylum seekers who fear for the families they left behind. He said people who sought asylum in Canada had calls to their families intercepted. The families in Sri Lanka were then questioned by the Criminal Investigations Department.
"The reports of recent torture are not surprising," he said. "I heard similar stories on a visit last year."
Though the men are relieved to be in Europe, asylum can take years, and even if granted it isn't necessarily permanent. Britain, like many countries, is buckling under pressure from anti-immigration groups.
For a 34-year-old taxi driver known as Witness #199, the fear of being rejected for asylum is crippling.
In 2014 while still in Sri Lanka, he visited his wife in the hospital after she gave birth to a son. With the war behind him and a new life ahead, he was overjoyed to be starting a family in his homeland — where he finally felt safe.
"After leaving the hospital, a man standing next to a white van started calling my name," he said. "I wasn't scared at that point so I just got in."
The men asked him to pay a bribe and when he told them he couldn't, they released him on the condition he pay in two weeks, he said.
"My uncle said the men would keep coming back to ask for money so he advised that it would be best if I left the country."
He fled to Switzerland, but was rejected for asylum eight months later.
Back home, he said, he was visiting friends when he was abducted again.
This time, he was held 23 days, branded with iron rods and raped after a group of men entered his cell and forced him to drink a bottle of alcohol, he said. Some forced him to perform oral sex on them and beat him when he refused. He lost consciousness. When he woke up, he was naked, covered in semen and bleeding from his rectum.
Seeing the bottle left in his cell, he broke it and tried to slash his wrists.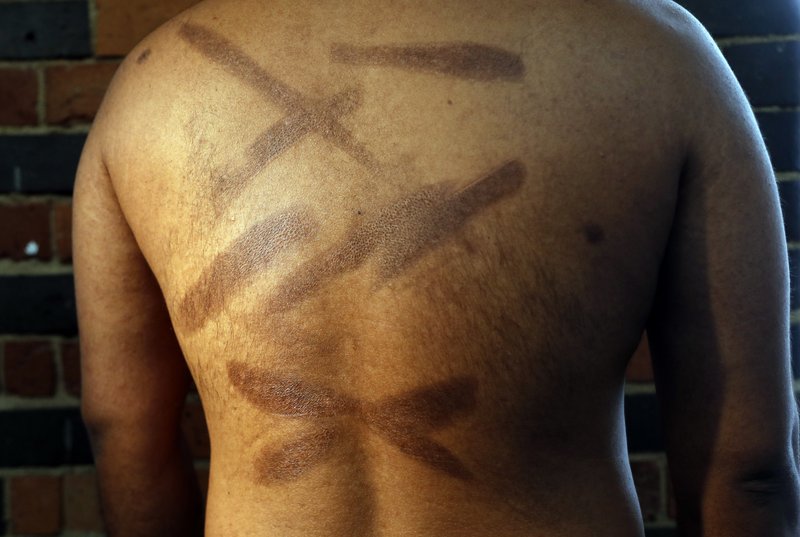 Two days later, he was released and made his way to the UK.
Within days of arriving and applying for asylum, he tried to kill himself again, this time by drinking bleach.
He hasn't seen his baby boy since he was born.
___
THE TORTURE ROOM
Some have cast doubt on the men's stories, saying that the marks could have been caused during the war or even that the men could have inflicted the injuries themselves to gain sympathy on asylum applications — an assertion that that medical and academic experts say is not credible.
Witness #203 said he was forced to join the Tigers as a child soldier at 16. He was studying to be a teacher when he found himself on the battlefield. For four months, he was tasked with collecting the body parts of fallen fighters killed in the extensive shelling soldiers so they could be buried.
Then, last year — seven years after the war ended — he said he was abducted in a white van and driven for two hours.
From his location, he believes he could have been taken to the notorious Joseph Camp, a military installation in the north of Sri Lanka that has been the source of numerous torture claims over the years.
For 11 days, he says men stripped him, touched his genitals and forced him to touch theirs. The 12th day was worse.
"I was put on a bench face down with my hands tied under it and my feet tied to it," he told the AP.
After refusing to sign a confession written in Sinhalese, the majority's language, he said his torturers threw a rag soaked in petrol into a bag and shoved the bag onto his head. He passed out. When he awoke he was in a torture room.
It was there that the soles of his feet were thrashed and his back was beaten with a metal pipe. His captors then heated up long metal rods so they could brand him with the marks of a tiger.
He was released on the 13th day after his father paid a bribe and found a Muslim trafficker to arrange for a fake passport for passage to the U.K. In the same month after he arrived, he tried to hang himself with a wire rope. More than a dozen of the victims have tried to kill themselves.
"From all of the beatings, especially on the soles of my feet, the pain had taken over. But what haunted me the most is all of the sexual torture that went on."
Many of the men said they signed false confessions after the torture.
The road to recovery will be no easy journey for the men, acknowledges Caroline Roemmele, who supervises some of their counselling.
A mixture of antidepressants, sleeping pills and pain medication brings comfort to some. Others find solace in telling their stories even though each word awakens memories of their traumas.
"It's a long process," said Roemmele. "But the human race wouldn't have survived if we couldn't survive trauma."
___
Associated Press writer Katy Daigle contributed to this report from Colombo, Sri Lanka.